Your pavers add a lot to your home. Pavers are those artfully designed surfaces within your property that welcome guests to your driveway, your home, your porch, or other places. They're decorative and beautiful, and they're an important part of your home's "curb appeal."
The problem? They can get incredibly dirty.
F&S Paver Cleaning Services
With family, guests, animals, and other objects traipsing and rolling across your paver surfaces, these decorative areas often have great buildups of dirt, grime, and other substances. That can do a number on your house's curb appeal. Adding to this unfortunate situation? They're also very difficult to clean.
The experts at F&S can help with all types of pavers with their high-tech, cutting-edge services. Turn to them to get all the pavers in your property looking good as new.
Want to learn more? Click here.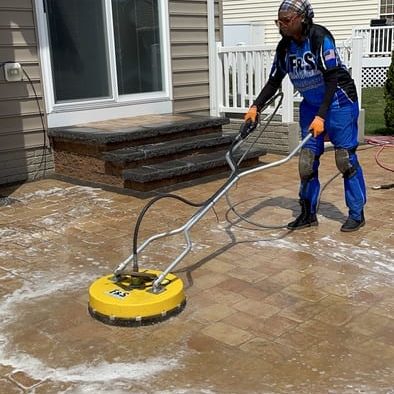 Posted in
Bethany Beach, DE
,
Bethel, DE
,
Blades, DE
,
Bridgeville, DE
,
Dagsboro, DE
,
Delaware
,
Delmar, DE
,
Dewey Beach, DE
,
Ellendale, DE
,
Fenwick Island, DE
,
Frankford, DE
,
Georgetown, DE
,
Greenwood, DE
,
Henlopen Acres, DE
,
Laurel, DE
,
Lewes, DE
,
Long Neck, DE
,
Millsboro, DE
,
Millville, DE
,
Milton, DE
,
Ocean View, DE
,
Rehoboth Beach, DE
,
Seaford, DE
,
Selbyville, DE
,
Slaughter Beach, DE
,
South Bethany, DE
|
paver cleaning
,
paver restoration
,
paver sealing
,
residential