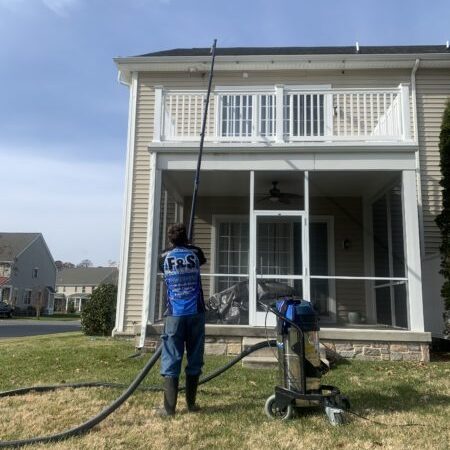 Gutter Cleaning
It's easy to forget about your gutters until they cause a problem. They stay out of sight, so why would you think about them?
Unfortunately, neglecting your gutters can lead to costly problems that affect your home. F&S Power Washing's gutter cleaning services keep water away from your home and protect your house from damage.
The Benefits of Professional Gutter Cleaning
Clogged gutters are more than annoying. They can cause serious, costly damage to your home.
During the spring and summer, your gutters should direct rainfall away from your house. Clogged gutters can't do their jobs, so water spills over the side. As the water collects around the foundation, the risk of flooding goes up. Many people are surprised to learn that clogged gutters can cause flooded basements, but we've seen it plenty of times.
During winter, clean gutters help melting snow and ice flow away from your roof. Even a small clog can cause ice dams. An ice dam is a piece of frozen water that blocks your gutters and drains even more. As more snow, ice, and rainfall during the season, the dam keeps growing. Eventually, the ice dam can push itself under your roofing shingles. Once that happens, your roof can get seriously damaged. The ice dam can even make holes in your roof. When the temperature gets warmer, the water will flow through the roof into your house.
We all know what Delaware winters are like. Don't take a risk that could cause thousands of dollars in damage.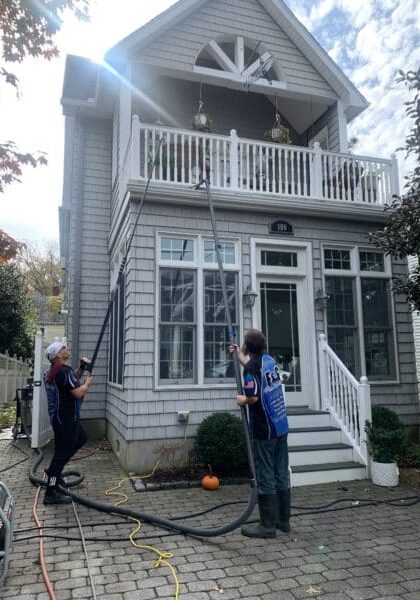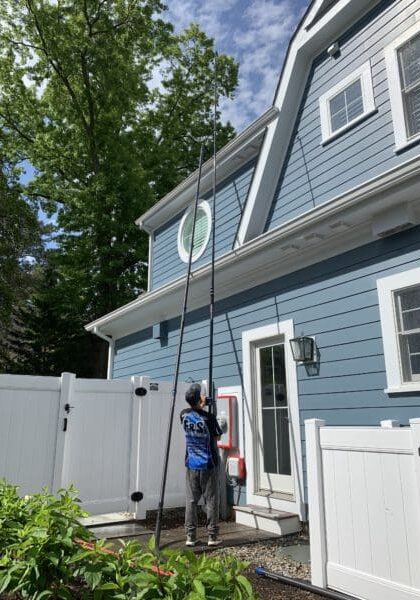 Our Approach to Safe, Effective Gutter Cleaning
F&S Power Washing has been serving Sussex County and surrounding communities for two decades. During those years, we've learned a lot about how to approach individual projects.
We never assume that your gutters need the same cleaning services as your neighbor's gutters. We inspect your gutter system to determine what technique will work best for your home.
F&S Power Washing uses state-of-the-art equipment to give you the best results. We have cameras that give us a close look at your gutters and drains. The images help us make a plan for cleaning the entire system so you can protect your home from water and ice damage.
CHECK OUT OUR GUTTER CLEANING GALLERY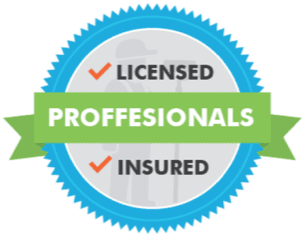 We're a Licensed, Insured Company That Cares About You!
We started F&S Power Washing because we enjoy meeting new people and giving them the cleaning services they deserve. It's always our goal to exceed your expectations.
To meet those goals, we make sure that all of our team members get trained and certified. We don't send a group of amateurs to clean your gutters. Our teams know what they're doing.
Of course, we know that even the best companies make mistakes. We keep our insurance policy updated to protect you from liability. If someone gets hurt during the job, our insurance takes care of the medical bills. If an accident damages a part of your home, our insurance pays for the repairs or replacements. These things rarely happen, but we never want to risk putting you in a tough spot.