Exterior house washing
Professional soft washing to vinyl siding, brick/stone, stucco, gutters, and soffits on the exterior of the home.
Our team uses just the right amount of pressure to clean your home's exterior without causing any damage. You won't believe how beautiful your house looks after it gets a professional washing from F&S Power Washing.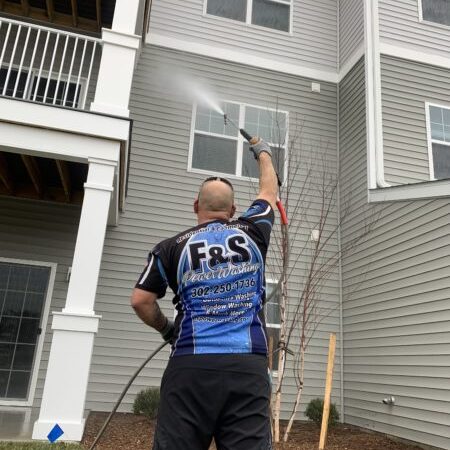 Gutter Cleaning
Our team of professionals will remove all dirt and debris using a vacuum system, GoPro camera, and monitor from gutters and downspouts.
Dirty gutters can cause all kinds of problems, including flooding and roof damage. Get your gutters cleaned by F&S Power Washing to keep your home maintenance costs as low as possible.
Window Washing
Exterior window cleaning is multi-purpose! Not only does exterior window cleaning make your home look amazing, but it also helps with the efficiency of your home. We use a Purify Water System, which uses no chemicals and leaves no residue on the windows.
They will be spot free! Most power washing companies in Delaware will only clean the exterior side of your windows. That only does half of the job! F&S Power Washing cleans both side to give you a clear view.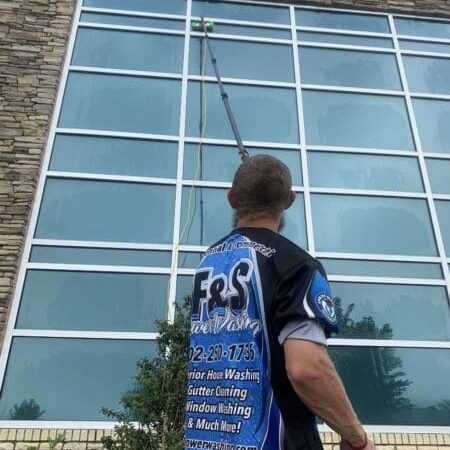 Concrete Cleaning
Dirty concrete can make your whole home look dingy. As dirt, mold, and pollution collect on your concrete surfaces, you can expect discoloration that hurts your home's curb appeal. F&S Power Washing can rejuvenate your home's appearance by cleaning patios, driveways, porches, and other concrete surfaces.
Roof Soft Washing
Roof soft washing using gentle pressure to remove the dark stains caused by pollution, dirt, and mold.
Regular washing can also extend the life of your roof, which could save you thousands of dollars over the years. F&S Power Washing has years of experience washing roofs, so we know how to choose cleaning methods that will give you the best results.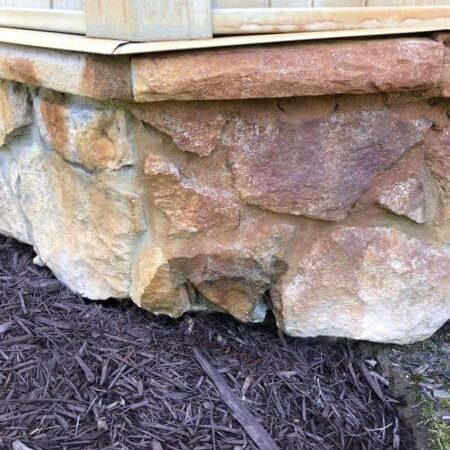 Rust And Graffiti Removal
Rust can damage metal quickly, leaving you with an expensive mess.
Our rust removal services slow the process to make your home more attractive and help you save money. F&S Power Washing also has graffiti removal services that will get rid of stubborn spray paint. We don't like seeing defaced homes in Sussex County and surrounding areas, so we're thrilled to clean surfaces for you.
Paver Cleaning & Sealing
Landscape pavers can add beauty to your home's exterior. Over time, though, they collect dirt, fungus, and grime that can turn them into eyesores.
F&S Power Washing chooses the perfect amount of LOW pressure to clean your pavers without causing damage. If your pavers have gotten stained over the years, we can often use restoration techniques such as cleaning, removing old sand, replacing with new Polymeric Sand, and or Sealing Pavers to make them look amazing, again.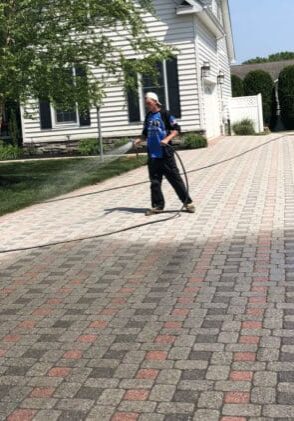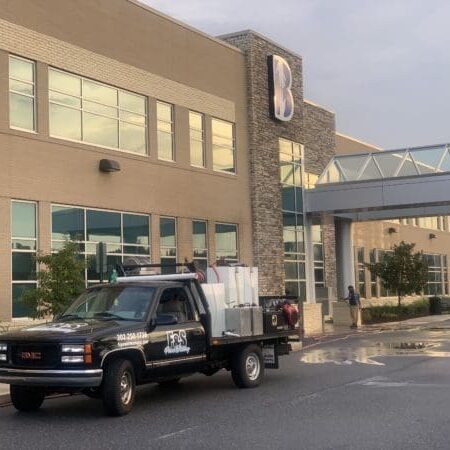 Commercial Services
You won't find many companies in Delaware that provide indoor and outdoor commercial cleaning services. At F&S Power Washing, we want to make sure that you have an easy way to keep your commercial areas clean.
Our outdoor services include cleaning sidewalks, building exteriors, dumpster pads, and loading docks.
Inside, our professionals eliminate germs, dust, and dirt to make your workspaces healthy and attractive. Whether you manage a retail store, office building, or industrial facility, our vacuuming, mopping, trash removal, and other cleaning services will give everyone a safe area to use.