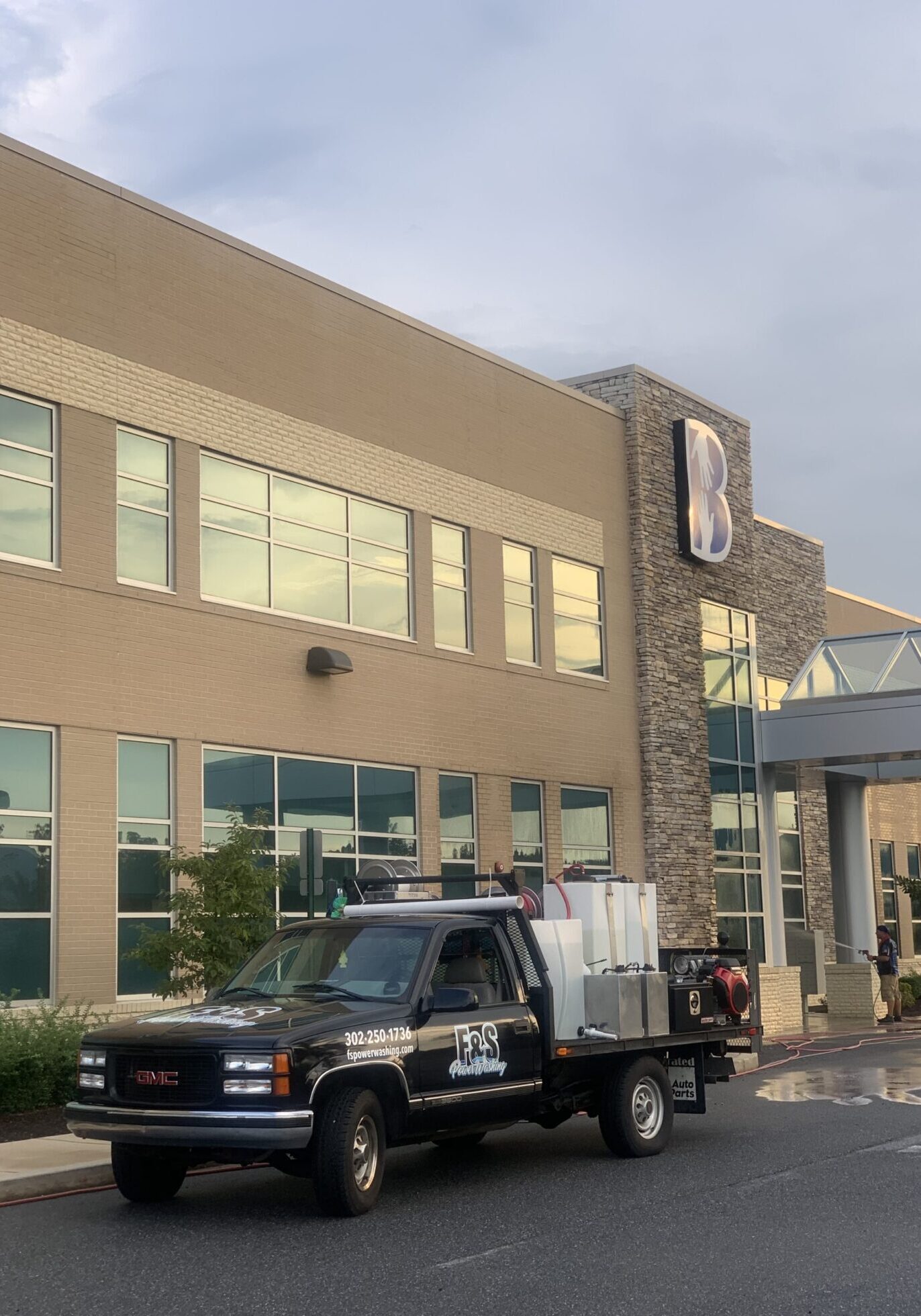 Window Cleaning
There's something beautiful about starting your day with fresh, crisp, newly-cleaned business and our commercial services can bring you just that.
The first thing that a customer notices when they come to your business is how clean it is. That's why it's so important to keep it professional and polished. We know that a customer's perception of your business changes your worth to them and can even keep you from earning their business. Having a clean and tidy work environment is also important for health code violations and safety concerns.
Exterior Power Washing Services
We all know about the infamous dumpster pads and how run down and grimy it can get.
F&S will professionally clean any commercial sidewalk, loading dock, or dumpster pad for you to wash away dirt, trash, and spills. Your sidewalk or loading dock won't just look cleaner-it will smell cleaner, too.
These services are especially important for gas stations (oil spills in the parking lot), banks, restaurants (that dumpster pad needs some attention), auto shops, and any other business with frequent vehicle traffic.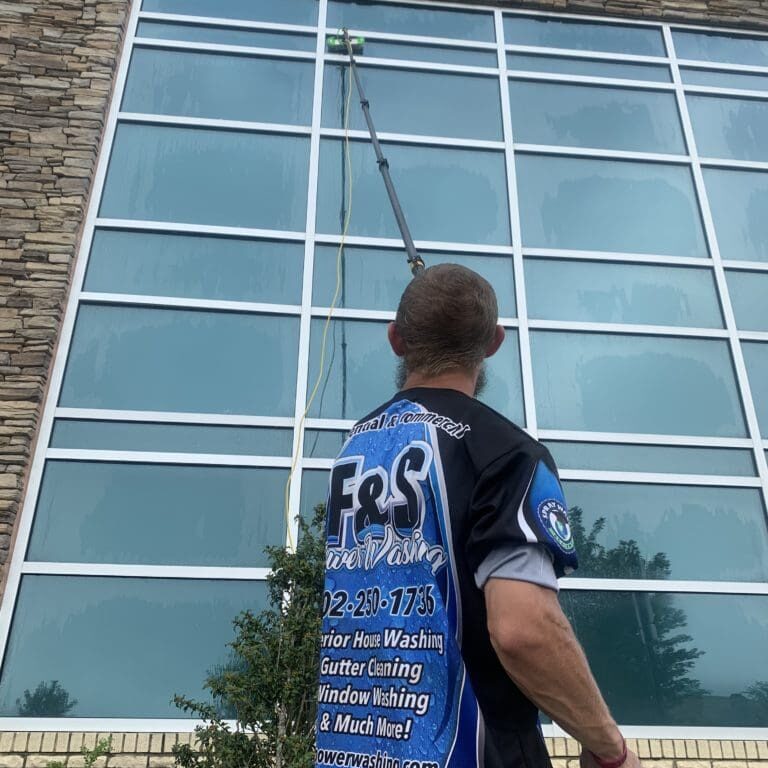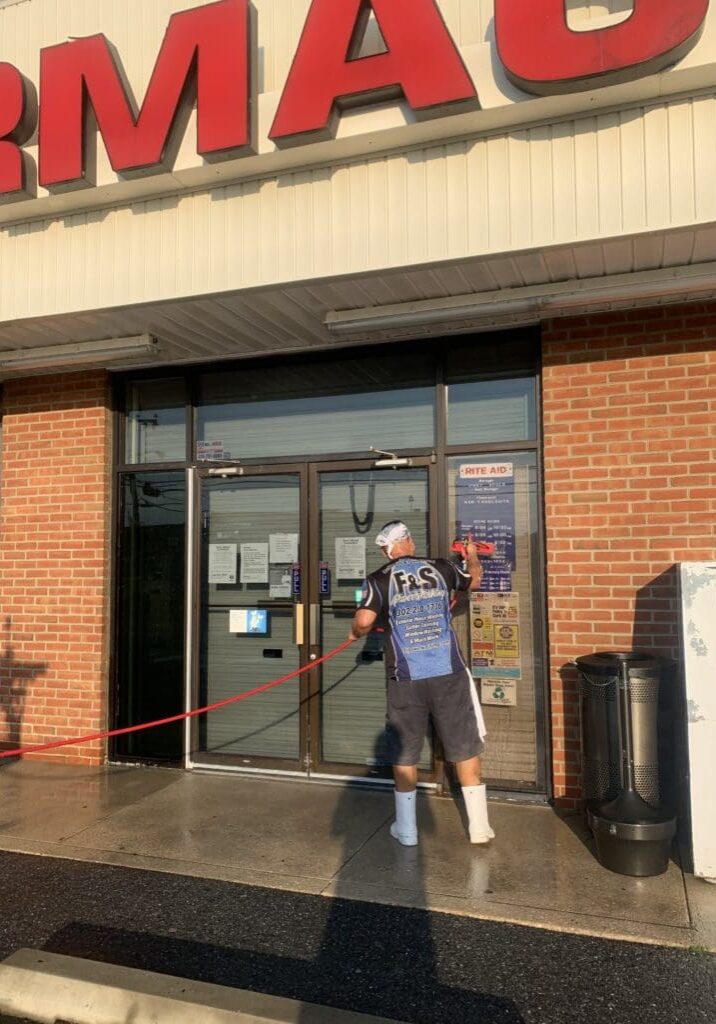 The Benefits of Exterior Power Washing Services

Every business needs to maintain a clean, attractive exterior that makes customers feel welcome.
Whether you manage a restaurant, auto shop, or industrial facility, your building needs a clean exterior that adds to your positive reputation.
By making your building more welcoming, you can earn more money. In many ways, exterior power washing services from F&S pays for itself. You get more than increased traffic to your business, though. Other benefits you get from regular cleaning include:
A healthier environment that improves employee productivity and reduces sick days.
A cleaner interior because your employees and customers track less grime in from the outdoors.
Lower maintenance costs associated with exteriors that don't get regular cleanings.
A safer space that doesn't include as many slippery surfaces from oils spills and grease.
Cleaner windows that let natural light into your building.
Remove Graffiti to Create a Welcoming Space

You never know when someone will vandalize the outside of your business. It happens all of the time.
No one wants to see graffiti where they shop or do business. It creates an unwelcoming atmosphere that drives people away.
F&S Power Washing has years of experience removing graffiti from all kinds of surfaces. Contact our team as soon as possible so we can remove spray paint and other vandalism from your walls, windows, and other structures. We'll get rid of the mess so you and your customers don't have to think about it again.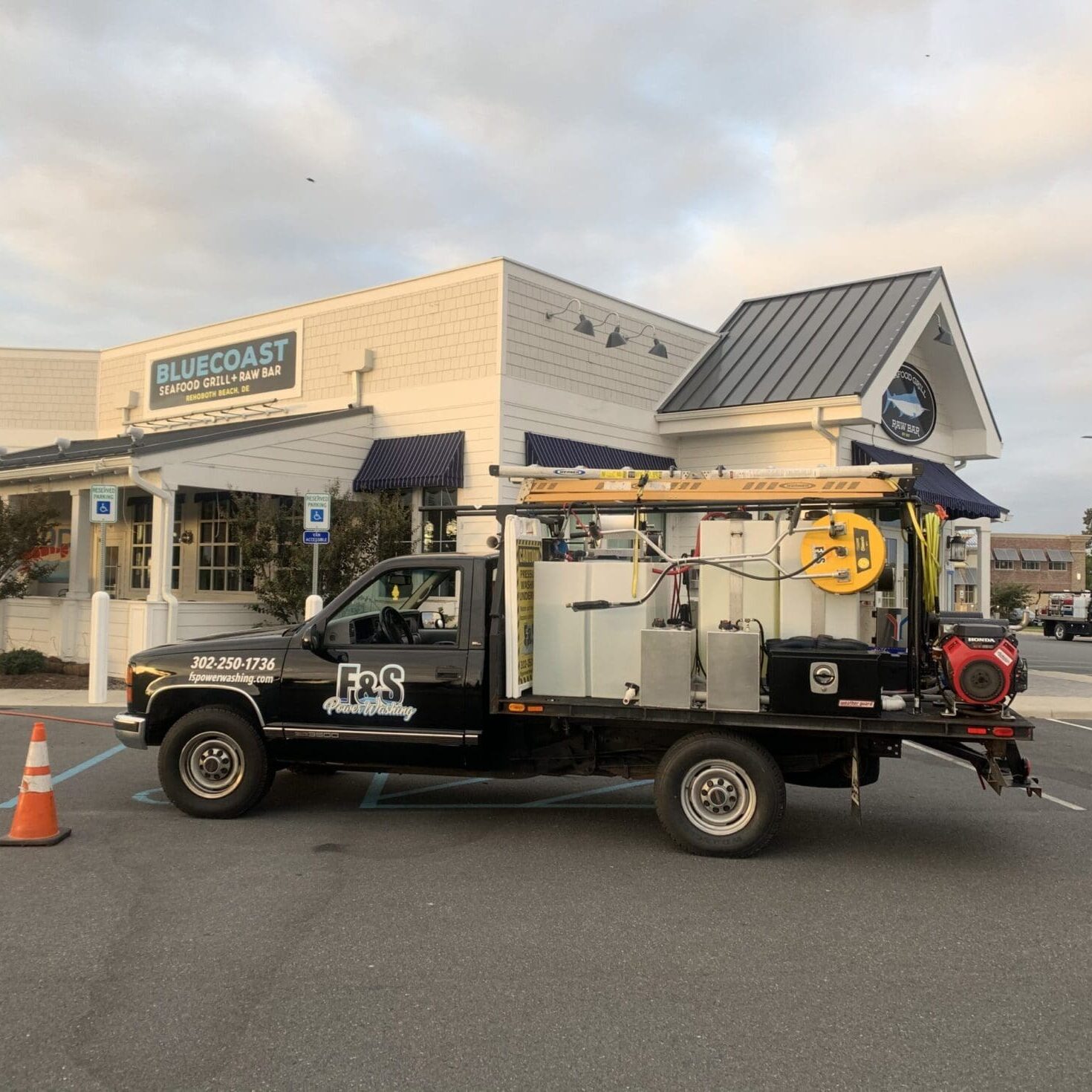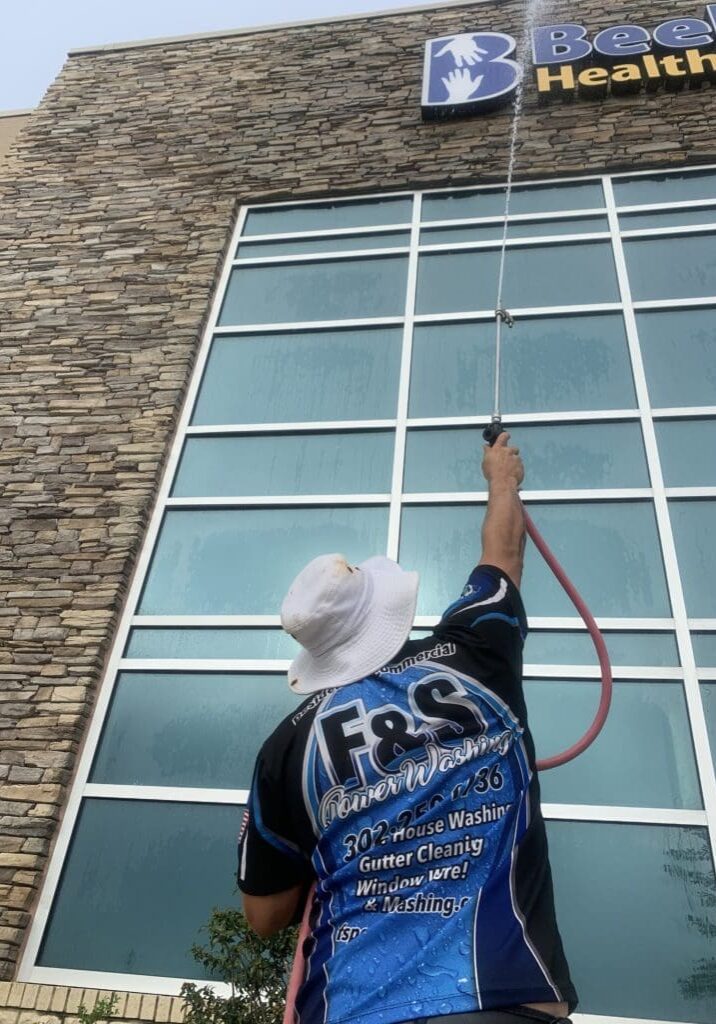 Get Cleaner Windows to Brighten Your Building

Clean windows say a lot about a business. When customers see clean windows, they know that they can trust you to provide a pleasant experience.
When employees see clear, streakless windows, they get more natural light and a better view of the outside.
Make your building more attractive with F&S Power Washing's streakless window cleaning services. You won't believe how beautiful your building looks when our team leaves.
F&S Power Washing Takes a Unique Approach to Cleaning
Many of the power washing companies in Delaware take a one-size-fits-all approach to serve their clients.
They train their teams to do all jobs the same way. That may look efficient on paper, but it doesn't work in the real world.
F&S Power Washing takes an individualized approach to every project. We take the time to review your exterior cleaning needs, look at your surfaces, and develop a plan that reaches specific goals. We don't come to your place of business just to blast dirt with high-pressure water. Instead, we use just the right amount of water pressure to get the job done without harming your property.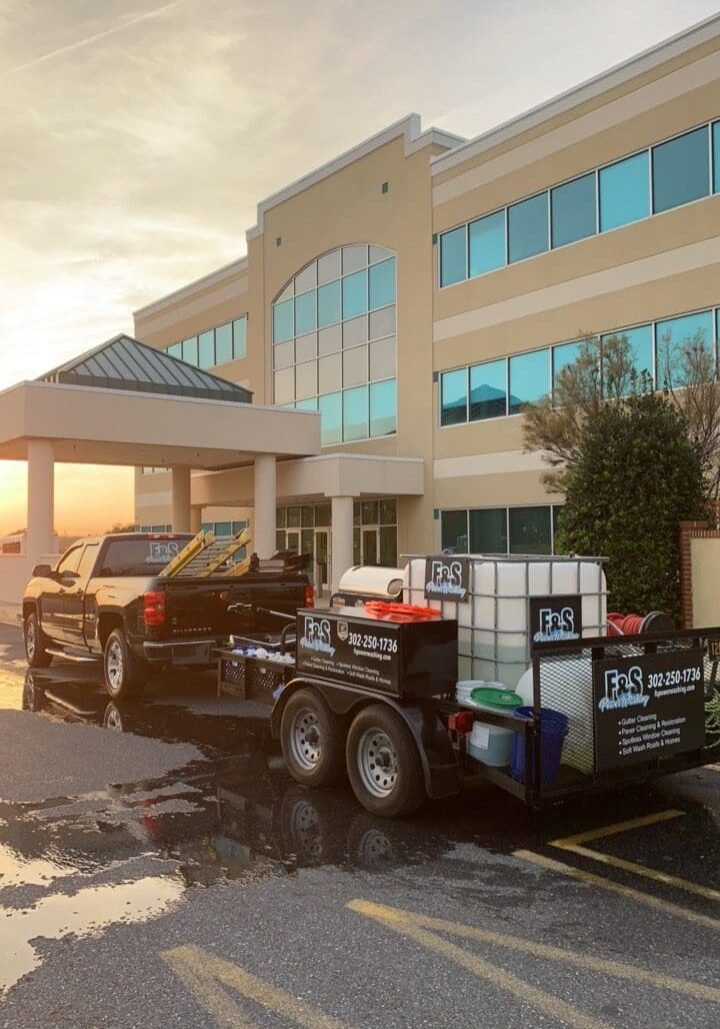 Interior Commercial Cleaning Services
Bathrooms can get messy quickly with germs on nearly every surface. Even if a bathroom looks clean, odors can let your employees and guests know otherwise.
Dirty bathrooms breed bacteria and mold, which can lead to illness in the workplace. Our team's attention to detail will leave your employees and customers with a pleasant experience.
In an office environment, thorough dusting and disinfecting are necessary. Vacuuming, mopping, and trash removal are also important to keep the appearance of a clean workspace. We can reduce the chance of office illness by killing and removing germs. A clean facility can make a lasting impression on employees and visitors--but a dirty facility definitely will.
Don't waste your employees' valuable time with cleaning and scrubbing-let us do the hard work. We are quick, efficient, and excellent at communicating to figure out exactly what you need and where your biggest cleaning priorities lie. We also provide our own cleaning supplies, meaning one less thing for your facilities manager to worry about. This allows your employees to be more productive and save the company money by working with our full-service cleaning company. We are available to accommodate your busy schedule.